UNITED SEWING MACHINE IS AN AUTHORIZED DURKOPP ADLER UPHOLSTERY & TECHNICAL TEXTILES DISTRIBUTOR!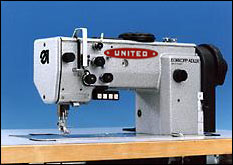 Dürkopp Adler America, Inc. is well-known throughout the clothing and textile industries as a producer of special sewing machines, sewing automates and sewing units. As international specialist providing solutions for such target groups as manufacturers of tailored clothing, outer wear, shirts, upholstery for homes and automobiles, technical textiles, and leather goods, we have taken a leading position in these important sectors of the world market. This is most evident in our technical expertise in the automation of short, long, and ruffled seams.

An important feature of our successful production range is the variety of technologies used for the sewing process, insuring the flexibility needed when adjusting manufacturing operations to new styles and methods.

As a partner to the sewing industry, Dürkopp Adler America, Inc. operates in North, Central, and South America through a sales, marketing, and service network of subsidiaries and authorized dealers.

The 767 (pictured) - flexible for medium-weight materials -
The special sewing machines of class 767 can be used for nearly all operations involved in the manufacture of home and car upholstery, technical textiles and leather goods. Whether single or twin needle version ­ the proven sewing technology and the powerful feeding technique guarantee an always perfect seam quality. Leather, bulky workpieces or other difficult materials are processed without any problems. The wide range of sewing equipment and attachments leaves no wishes unfulfilled and ensures that many sewing tasks are mastered most satisfactorily.
| | | |
| --- | --- | --- |
| Snapshot | Class | Features |
| | 195 | Single or twin needle double-chainstitch machine for the medium-weight application range |
| | 268 | Single or twin needle lockstitch postbed sewing machine for the medium-weight application range |
| | 267 | Single needle lockstitch machine with bottom feed, needle feed and alternating foot top feed |
| | 221 | Single or twin needle lockstitch long arm machine with bottom feed, needle feed and alternating foot top feed |
| | 205 | Single needle lockstitch barrel shuttle free-arm machine for heavy-weight applications |
| | 550-12 | Engineered sewing station for reproducible ruffling of upholstery parts |
| | 467-65 | Single or twin needle lockstitch longarm machine with bottom feed, needle feed and alternating foot top feed |
| | 467 | Single needle lockstitch machine for the medium-weight application range |
| | 767 | Single or twin needle lockstitch machine for medium-weight applications |
| | 768 | Twin needle lockstitch post bed machine for medium-weight applications |
| | N292/ N291 | Single or twin needle lockstitch flat bed machine |