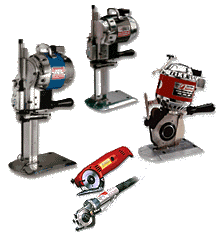 At the heart of the Eastman line are the reliable and versatile classic Blue Streak II® 629 and Brute® 627 straight knives. Whether denim or delicates, sailcloth or synthetics, there is an Eastman straight knife perfectly suited for virtually every cutting requirement.

Eastman straight knives are available with both standard and heavy duty motors, a choice of four blade strokes and even a dual speed option so that each machine specification can be matched to the customer's needs.

Because of their low profile baseplate, narrow silhouette standard and superb balance, Eastman straight knives are especially suited to spreads that require tight turns and high accuracy with minimal distortion from bottom to top ply, at cutting heights of up to 11½".

For cutting large radius curves or straight lines, one of Eastman's wide range of round knife machine is ideally suited for the job. Eastman's round knives are built with the same quality and attention to detail that have made Eastman straight knives the #1 choice in cutting rooms around the world.

Eastman's Cardinal® series includes round knives designed to handle most standard round knife applications. With four different blade sizes, horsepower ratings and custom engineered gear ratios to choose from, Eastman's cutting experts are able to deliver a Cardinal with specifications exactly matched to each customer's needs.