All-new Pacer® '100'
Now the world's best built straight knife is also the world's best handling straight knife. The entire Pacer line-up is up to 20% lighter and balanced to perfection so they're faster and more responsive.



Easiest, lowest cost maintenance
40% fewer parts and an amazing 1300% faster maintenance access means you get less costly maintenance and more productivity.

Exclusive shearing action
Patented Kleen-Kut inserts assure smooth and easy shearing action through every layer of fabric, even in the highest lays. Bottom layers are cut clean, not beaten down.

New sharpening systems
Now you can choose from three automatic sharpening systems - auto-adjust stone, manual adjust stone and abrasive belt. All Wolf sharpening systems sharpen the entire blade including the bottom, with a uniform bevel.

Blades for every need
Choose from 5" to 14" in carbon steel, high speed steel or Teflon* coated. Plus Duro, wave and notched blades in every size.
*Dupont Registered Trademark

Free, no-obligation demonstration
Prove Wolf quality to yourself with a free, no-obligation demonstration in your own cutting room (qualified customers).


Clipper

---

Weighs only 12lbs., but with 1/3 hp Clipper breezes through lays up to 3".
Blade Diameters: 4" to 5¼" (10.1cm to 13.4cm)
Cut Capacities: 2¼" to 3" (5.8 cm to 7.6 cm)
Motor: 1/3 hp, 1 or 3 phase Weight: 12 lbs. (5.4 kg)

---



Blazer

---

Job-rated medium to heavy-duty, yet light weight and easy to use.
Blade Diameters: 4¾" to 7" (11.9 cm to 17.8 cm)
Cut Capacities: 2 5/8" to 3 7/8" (6.6 cm to 9.9 cm)
Motor: ¾ hp, 1 or 3 phase Weight: 20 lbs. (9.0kg)

---



Big "O"

---

The world's largest circular cutting machine. Cuts 9" lays with ease. Can slash straight line cutting time in half.
Blade Diameters: 8" and 10" (20.3 cm and 25.4 cm)
Cut Capacities: 7" and 9" (17.8 cm and 22.9 cm)
Motor: ¾ hp, 1 phase; 1 hp, 1 or 3 phase Weight: 29 lbs. (13.2 kg)

---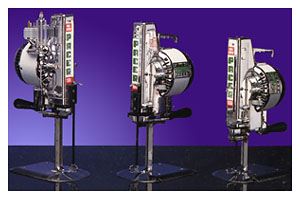 JEANS MACHINE®/ SUPER SERIES J
Two tough machines with the strongest motor in the industry - 1.85 peak horsepower. Super Series J is ideal for heavy duty and industrial fabrics. Special wedged-shaped standard makes the Jeans Machine perfect for hard-to-cut denims and canvas.

DUAL SPEED It's like having two machines in one. The Dual Speed Pacer lets the operator switch form full speed for cutting natural fibers to half speed for fusible materials and cutting in corners.

PACER JR. A lighter, more compact straight knife to handle lower lays and/or lighter weight fabrics. The Pacer Jr.'s design features are the same as the Pacer 100, but is 12 lbs. (5.4kg) lighter.